Jiangsu: the integration of the elements of the times and traditional oil paintings, copyright protection has become its "golden key" to open up the international market.
Snow-white canvases are filled with colors in the waving hands of painters, giving them new life ... Jiangsu Chenyu Culture and Art Co., Ltd. (hereinafter referred to as "Chenyu Culture") skillfully integrates elements such as metal, bark and ceramic tiles into traditional oil painting creation. From design, proofing to precise drawing in the factory, the MH series decorative paintings of Chenyu Culture have been iteratively upgraded for six generations since they came out. As a copyright demonstration unit in Jiangsu Province, up to now, Chenyu Culture has owned more than 100,000 copyright works.
In order to effectively promote the use of copyright transformation, the Propaganda Department of jiangsu provincial party committee and the Provincial Copyright Bureau, together with relevant departments, have carried out the selection of key cultivation projects for industrial transformation of outstanding copyright works for three consecutive years in the province. At present, 104 projects have been selected, involving a total investment of 1.078 billion yuan and sales of 4.166 billion yuan.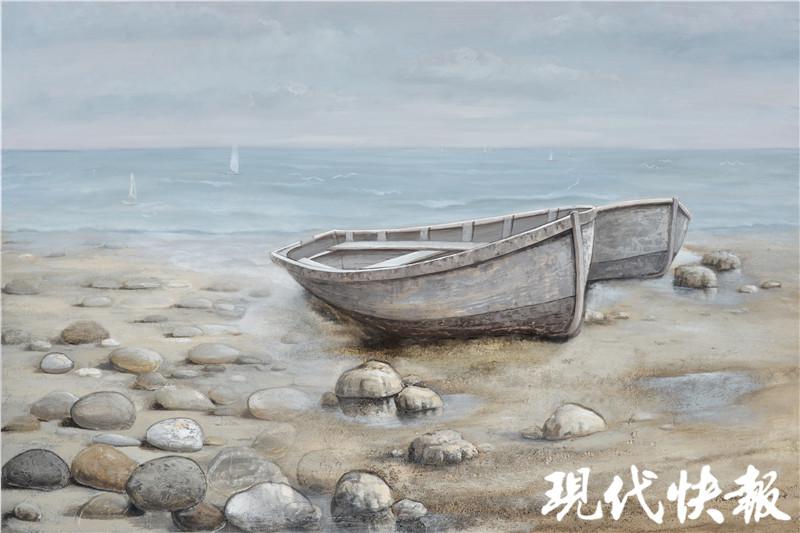 Copyright helps enterprises "gain a foothold" in the international market.
MH series three-dimensional decorative oil painting products are different from the common works in the past, creating a new era of three-dimensional oil painting decorative products. Since the first generation of products came out in 2008, we have completed the iterative upgrade of six generations of products to adapt to market changes and constantly innovate products to meet the needs of users. Copyright protection also provides a guarantee for the large-scale production of Chenyu decorative paintings. Up to now, MH series decorative paintings have brought orders of more than 10 million US dollars to enterprises.
"MH series products are a milestone in our innovation and development for many years. Many customers have learned about Chenyu culture because of this series of products, and then they have established long-term cooperative relations." The confirmation of MH series independently developed by Chenyu Company is of great help to open up the international market. Enhance mutual trust between customers and companies, so that the foundation of cooperation between the two sides is more solid.
Chenyu Company said that as a foreign trade export-oriented enterprise, Chenyu Culture mainly focuses on developed countries such as Europe and America, and overseas customers attach great importance to copyright. Therefore, strengthening the protection of original copyright and owning independent intellectual property rights have also become a "golden key" for Chenyu Culture to explore the international market.
From "consciousness" to "attention", the number of copyrights has exceeded 100,000 so far.
"With copyright protection, the company has continuously increased its investment in R&D and expanded its R&D team, which has far surpassed its peers in terms of both the number of copyrights and the strength of enterprises." Chenyu Company attaches importance to copyright protection, which originated in 2008 when Shao Jinfei, the founder of the company, led the business team to participate in the China Import and Export Fair. "From then on, there was a sense of picture protection, but at that time, the consciousness was not strong, and only the copyright application for important designs was carried out."
In 2013, after the enterprise invested in Zhouzhuang Cultural Industrial Park in Kunshan, in order to strengthen the protection and application of copyright, the company set up a copyright management department, with full-time staff responsible for the copyright declaration and registration of the company's works. At the same time, a set of perfect copyright work management system has been formulated to further strengthen copyright protection, and so far there are over 100,000 copyright works.
"A few years ago, at the Canton Fair, it was found that peers pirated MH series. Finally, through the proof of copyright, the exhibition staff asked the other party to take off the infringing works and apologize." Chenyu Company said that cases of infringement occurred from time to time, but on the basis of copyright protection, all of them were able to successfully defend their rights.
Make full efforts to actively promote the transformation of copyright value.
At present, the most concerned MH series works of Chenyu Culture have been widely recognized and favored after being put into the market. Modern Express reporter learned that this series of products has stable sales channels and is one of the products with the highest profit rate.
For the next development of MH series three-dimensional decorative oil painting products, Chenyu culture has a clear direction. That is, the strategy of "vertical iterative upgrading and horizontal multi-directional application" will be adopted to continue to develop and expand outstanding creative products. "Vertical iterative upgrading includes, but is not limited to, multi-dimensional upgrading in materials, themes, expression techniques and technology. Horizontal multi-directional applications include exploring new customers and expanding applications in the field of non-decorative paintings. "
At present, Chenyu Culture has made many attempts to broaden the channels for using copyright works. MH series products have cooperated with offline high-end home stores, and tried to cooperate with manufacturers in research and development of wall cloth and wallboard products, hoping to apply their unique technology to diversified home improvement fields.
"With the increasing emphasis on copyright protection in recent years, the company will also increase investment in research and development to enhance the added value of copyright application of products." Chenyu Company said that in the future, Chenyu culture will continue on the road of innovation for a long time and actively promote the transformation of copyright value.
Source: Modern Express